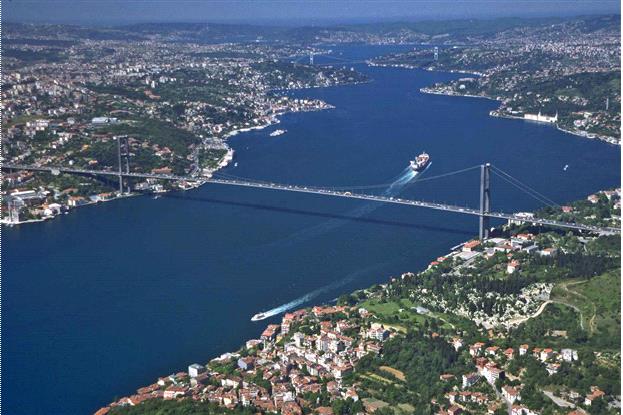 HIGHLIGHTS: ISTANBUL | CANAKKALE | PERGAMUM | IZMIR | KUSADASI | PAMUKKALE | KONYA | CAPPADOCIA | ANKARA | BOLU
VALIDITY: 15TH NOV 13' - 15 MAR 14'
CODE : TLS 9D8N
DAY 1
ISTANBUL ARRIVAL (L / D)
Arrival Istanbul International Airport, meet your professional tour guide then proceed to Süleymaniye Mosque which is the biggest mosque of Istanbul built by Magnificent Sultan Suleyman. Bosphorus Cruise; we will see the beauty of Bosphorus Channel which spreads over Asia and Europe Continents. This is the great experience to be between Asia and Europe Continents on the boat. We see and take pictures of Ottoman Palaces, Rumeli Castle, Anatolian Castle and the life style of people on the coast line of Bosphorus. Overnight in Istanbul
DAY 2
ISTANBUL - CANAKKALE (B / L / D)
After breakfast at the hotel, proceed to Istanbul city tour. We visit to Blue Mosque which is of the largest mosque in Istanbul, built to compete with St. Sophia. Dating back from 17th century. Mosque is famous for its blue tiles and 6 minarets. Hippodrome Square former center of sportive and political activities of Constantinople. See the famous Egyptian Obelisk, Serpentine Column and Wilhelm II fountain. Spice Market, It is a popular bazaar for local people in Turkey where you can find Turkish Delight, Apple Tea, Pomegranade Tea, Dried Fruits, Safran and spices. After lunch drive to Canakkale, take a ferry ride to cross The Sea of Marmara. Dinner and overnight at Canakkale Troy.
DAY 3
CANAKKALE –PERGAMUM – KUSADASI (B/ L/ D)
After breakfast visit Troy and continue to Kusadasi , You will visit Pergamum. Troy is the famous mythology city in Homer's epic poem, lliad, one of the oldest settlements in the world. This is the place for the famous wooden horse and the ruins of Troy ancient city. Pergamum Visit Asklepion which is the first organized hospital in Anatolia. Upon Arrival to Kusadasi check in to the hotel. Dinner and overnight.
DAY 4
KUSADASI – PAMUKKALE (B / L / D)
After breakfast Full day Kusadasi tour. Ephesus you will see impressive structures such as great theatre, Arcadian Street,Trajan fountain, Celsius Library, Hadrian Temple etc. Artemis Tempel which is One of The Seven Wonders of Ancient World built by Ephesians. After lunch at a local restaurant, proceed to Pamukkale. Visit Hieropolis and the cotton castle upon arrival. Cotton Castle is a magical and unique terraces and castles created by deposits of white limestone from thermal springs. This spectecular natural wonder is also in world heritage protection list of UNESCO. Hierapolis the city was founded in 190 B.C. by Eumenes II, king of Pergamum. In the 2nd and 3rd centuries, it reached the height of its development as a Roman thermal bath center.Don't forget to bring your swimwear to enjoy the thermal swimming pools of Pamukkale year-round! Dinner and overnight at the Hotel in Pamukkale.
DAY 5
PAMUKKALE-KONYA-CAPPADOCIA (B / L / D)
After breakfast proceed to Cappadocia via Konya by following silk road, you will visit the blue-green domed Mevlana Museum which used to be a school for Mevlevi Dervishes for mystic of Islam in 13th century. Continue from Konya and make a photostop at Sultanhani, one of the best-preserved caravanserais (inns) in Anatolia. Overnight in Cappadocia.
DAY 6
CAPPADOCIA (B / L / D)
In early morning hot air balloon experience as your optional tour. After breakfast you will enjoy full day Cappadocia tour. Visit the Underground City of Kaymakli, one of the largest underground cities there, said to have existed since the Hittite period. You will get a chance to see bedrooms, kitchens, dining halls, wine cellars, chapels, stables and more. Next, explore the rock-carved churches with some of it decorated with scratched frescos in Goreme Open-air Museum. Proceed to Uchisar, an old village of small dwellings carved into massive rocks. Gather some picture perfect memories at Valley of Birds and Uchisar, a fantasyland of strange and wonderful works of man and nature. Overnight in Cappadocia.
DAY 7
CAPPADOCIA - ANKARA - BOLU (B / L / D)
This morning, continue our journey to Ankara, the capital of Turkey. Visit the Magnificent Ataturk Mausoleum where the final resting place for Mustafa Kemal Ataturk (which also known as "Father of Modern Turkey"). Then, continue our journey to Bolu. Overnight Bolu.
DAY 8
BOLU – ISTANBUL (B / L / D)
Morning proceed to Istanbul. En-route enjoy a leisure drive along the shores of Marmara Sea and back to Istanbul. Topkapi Palace: The seat of the Ottoman Empire after it shifted its capital from Bursa to Istanbul. It is today a museum palace with a wide Treasuries, Royal Antiques, Court yards, Holy Relics etc.. In this palace you can see Moses's stick, St. John's arm and a part of his scull covered by gold. Then, proceed to collection of porcelain, antiques, and other treasures. Make a stop at the covered Grand Bazaar. If time allows end your day at The Biggest Shopping Mall of Istanbul, Istinye park where more shopping places for international and local brands awaits you. Overnight in Istanbul.
DAY 9
ISTANBUL DEPARTURE (B)
Have breakfast at your hotel then free at your leisure until transfer to airport for your flight. Farewell ISTANBUL
END OF TOURS
PRICE PER PERSON IN MYR (GROUND ARRANGEMENT ONLY)
Price Per Person in Twin Sharing Room in MYR

Pax / Hotel

15

20

25

30

35

Single Sup

4 * Hotel

1990

1890

1750

1650

1590

880
Package costs Include

Package costs Exclude

08 Nights accommodation at choice of the hotel category.
Transportation based on 27 seater Minibus for groups smaller then 20 pax and 47 seater for bigger sized groups
Meals are as per itinerary
Entrances to the museums included as mentioned in the itinerary.
Throughout English speaking professional guidance )
Daily mineral water on Bus and during meals
Taxes are included however in case of change it will be reflected to the costing

Personal expenses at the hotels or during tours
Domestic or international flight fare
Portage at the airports
Tips for guide and driver USD3.00 pp/pd for Guide USD2.00 pp/pd for Driver

 

REMARKS

Above offer is NETT
All rates are in RINGGIT MALAYSIA (MYR)
Itinerary is subject to change due to closed days of the museums and unforeseen facts
shopping stops (carpet – leather and Jewellery is included in the package costing)
In case there is no availability at the proposed hotels similar categories will be used and if higher category the rate difference will be reflected to the costs.
Rates are not valid for convention, holidays.
Increase of local vat tax, will be reflected to the costs.
Term & condition apply
Note : please refer to General terms and Conditions of Tours.